WHY CHOOSE US?
Wedgewood Britain is a top-tier destination management company (DMC) specialising in designing and delivering creative and dynamic programmes and events throughout the UK and Ireland.
Wedgewood's team of professional, experienced and dedicated project managers and destination specialists have a passion for delivering international meetings, motivational programmes and sensational events.
Our in-depth, up to date and unbiased local knowledge, expertise and extensive contacts help our clients design world-class itineraries – all with the peace of mind that comes from being in a safe pair of hands.
Our belief in a responsible and ethical approach to business ensures diversity and tolerance in the workplace, and we prioritise partnerships with suppliers who source locally and adopt sustainable policies.
When brought together, that means that we can help you discover extraordinary locations that bring your vision to life, and produce unforgettable experiences for your guests.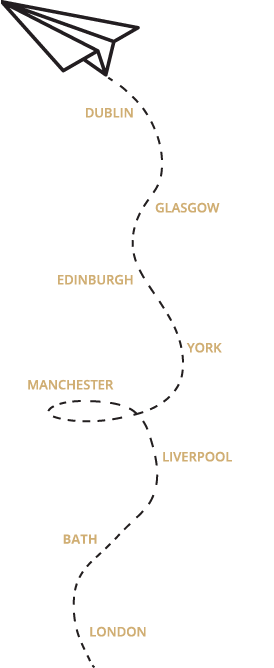 "People will forget what you said, people will forget what you did, but people will never forget how you made them feel."
—Maya Angelou
MEET THE DIRECTORS
JERRY ALLANSON & VANESSA LEWISOHN
When and how did you start out in this industry?
JERRY: After graduating in French and German studies I started work as a representative for a UK travel company working in a variety of countries. This gave me an appetite for travel and tourism, and I joined Wedgewood Britain in 1995. Wow! That seems like a long time now that I say it out loud, but every day is different and that appetite has never gone away.
VANESSA: I have a passion for languages and organisation, so this industry suited me from the outset. I started with an incoming tour operator, taking the bus to Bond Street, getting a grounding in the nuts and bolts of the business, but never meeting the guests. When my then boss pointed me towards a more creative opportunity at Wedgewood Travel it was a natural progression and I haven't looked back.
Of all the programmes you've designed and delivered, do you have any favourites?
JERRY: Actually there are many for all sorts of reasons … bringing a Swiss group to the top of Calton Hill overlooking Edinburgh, where they were greeted by a lone piper with a private pop-up whisky-tasting bar that had the whole party cheering … and a full Scottish pipe & drum marching band with a castle back-drop – a stunning way to end an evening event, and guaranteed to make the hair stand up on the back of your neck. These experiences remind me of why we do this.
VANESSA: It takes a lot to beat a spine-tingling private choral performance in a palace. But then there's dinner in the Houses of Parliament and fleets of Mini Coopers, fireworks and Shakespeare in the grounds of a private manor. Oh, and Regency dancing in an elegant London town house, entertaining thousands of international fans at the Rugby World Cup and Champagne at the Tower at dusk. Just seeing all those faces lit up with joy and surprise.
I can also get excited about a successfully loaded and labelled luggage van.
Incentive trips are an invaluable motivational tool. What motivates you?
JERRY: In my working life it's providing people with an experience that really moves them. Some events take months and months in planning and preparation, and when I see very personal and emotional reactions to what we've organised … that's where the motivation comes from. Away from work, it's finding new travel destinations and experiences, Liverpool Football Club and alternative music!
VANESSA: We say at Wedgewood that 'travel reduces the distance between us', and so seeing teams and groups bonding over the course of a programme helps me keep faith that that remains true. This is bigger and more meaningful than just travel.
What's important to you in your work?
JERRY: How we run our company is as important to us as what we do. I'm passionate about having a responsible and ethical approach to business, which involves treating our suppliers, as well as our clients, with respect and integrity.
VANESSA: Beyond impeccable delivery and kindness along the way? Integrity and teamwork come high up the list because they're the tools that enable us and I know from long experience that they're essential. It's so much more rewarding to share an experience, whether at the supplier end delivering a 5-day production (I counted 140 people integral to my last event and that is not including platoons of wait staff, housekeeping, make up artists, roadies …) or at the client end experiencing something outside the everyday. Attention to detail in this career separates the good from the great.
I'm not ashamed to admit that I love a neat folder, and I have a passion for high quality stationery. Just don't ask to borrow my fountain pen!
Thinking of the places in which you operate, which is your personal favourite?
JERRY: It's hard for me to look beyond Scotland. And not just because of the single malts! Edinburgh is just the most wonderful city.
VANESSA: I don't do favourites exactly (ask my children). I'm a truly British creature – I grew up in the west of Scotland and have a strong emotional attachment there so it's thrilling to observe how deeply it affects our clients. I don't wear a kilt but I've seen how it changes a person, and that's before the reeling starts.
For many years I've been a Londoner and am so lucky to spend my time in the best of this world-class city with its  immersive, life-enriching and exceptional experiences. 
I have to say I'm personally very happy hiking with friends and the little dog in the country, whether that's Cornwall, the Cotswolds or the Cairngorms.
And finally, what's your favourite sandwich?
JERRY: I'll have a New York deli with all the pickles, please!
VANESSA: On that hike in the country, cheese sandwiches every time.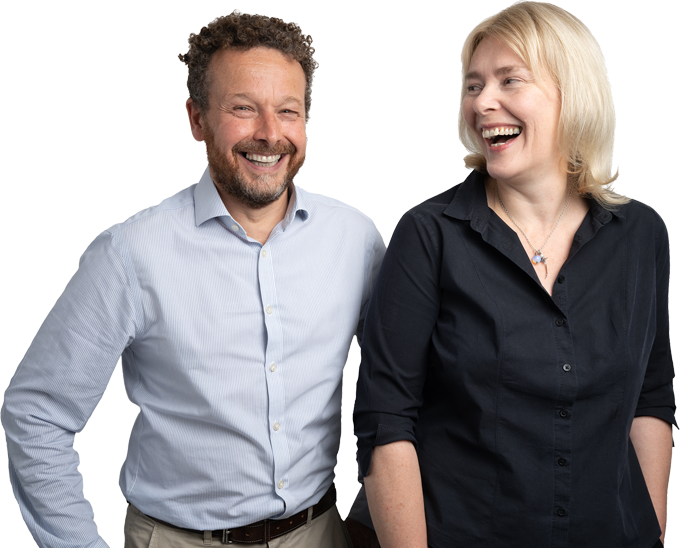 "WE LOVE WHAT WE DO AND WE WANT OUR CLIENTS TO DO THE SAME."
—Jerry Allanson
"WE LOVE HOW TRAVEL REDUCES THE DISTANCE BETWEEN PEOPLE – IN SO MANY WAYS."
—Vanessa Lewisohn